Recently, staycations have become people's favorite way to "getaway." A staycation is a vacation without leaving the area around your home. Sometimes it's just a hotel in the nearest city or a day trip filled with adventure. Why do people choose to staycation? The pandemic has made staycations one of the safest ways to travel without crossing state lines or getting on an airplane, but staycations have been around way before the pandemic started. They're a great way to save money. The cost of travel is minimal, keeping the cost down, especially if you're traveling with a group. When you indulge in a staycation, you're helping the surrounding businesses. The local shops, restaurants, and hotels you visit receive income from you instead of you giving it to another city. Since the travel time for a staycation is minimal, it's not necessary to take time off work or even plan too far ahead. This allows you to truly relax due to less stress involved.

New York City is a destination for millions of people, but when you call it your home, you're likely to want to travel somewhere else. What if you could take a weekend to explore the city and stay in a unique hotel all within a short drive from your home? Here are some of the most unique hotels in New York City - perfect for your upcoming staycation.
The Plaza
You might recognize this hotel from Home Alone 2 when Kevin found his way in a luxurious NYC hotel or from Eloise at the Plaza's notorious romp through these halls. You can treat yourself to room service and movies all day long when you plan your staycation at The Plaza Hotel. The hotel will give you a sense of NYC history as modern hotels continue to pop up around the city. The Plaza is known for being a destination for afternoon tea. While tea is certainly still served, the menu has broadened tremendously, including expertly crafted cocktails and more. Relax and sip on your favorite beverage among lush flora and details that will remind you what's right outside the door, Central Park.

The style of rooms at The Plaza is classy and reminiscent of previous years and eras. Wherever you look, you'll be greeted with 24-carat gold plating from the mirrors to the bed frames. The Plaza is packed with culture, history, and class, making it the perfect spot to staycation. Once you're done exploring the hotel's walls, you'll be in a central location giving you access to several restaurants and excursions.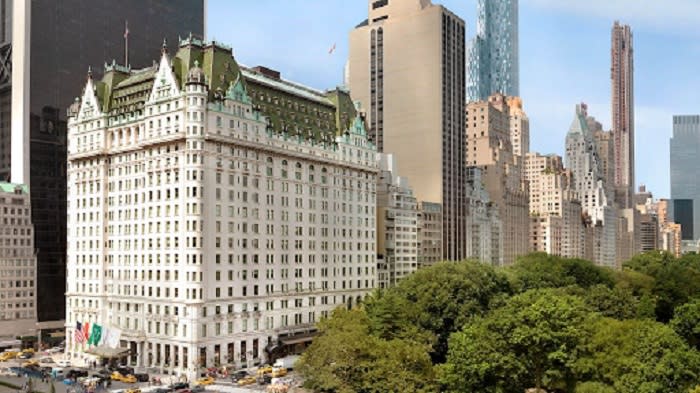 Credit: Kiwi Collection
Refinery Hotel
The Refinery Hotel holds history and charm within its walls. This hotel was once a hat factory, which was transformed into a tearoom during the Prohibition era. Eventually, it became the luxury hotel that still holds true today. Refinery is filled with fashionable history.

The rooms here feel industrial-chic, representative of the building's history while maintaining updates. You're likely to have a gorgeous view of the Manhattan skyline or the Empire State Building. Even living in NYC, those views never get old. The nightlife at Refinery is high-end and fun with a chic and casual rooftop bar. Don't worry — if you're visiting in the colder months, you can still venture up in the evenings as the roof is retractable, providing indoor and outdoor seating options. If you're looking for a luxurious or romantic getaway in your city, Refinery Hotel is the place to stay.
Bryant Park Hotel
The Bryant Park Hotel's vibes are truly one of a kind. This designer luxury hotel features stylish rooms and decor. Bryant Park is a favorite among the fashion and film industries. Therefore you know you can expect an eclectic experience. Bryant isn't for those looking to relax, with an underground club you should expect to be out all night when you're staying here. The underground club, called the Cellar Bar, is a chic and gothic-style lounge often visited by famous models. Their bottle service doesn't begin until 10 p.m., guaranteeing you a late and fun night as you bop to some of the cities best DJs.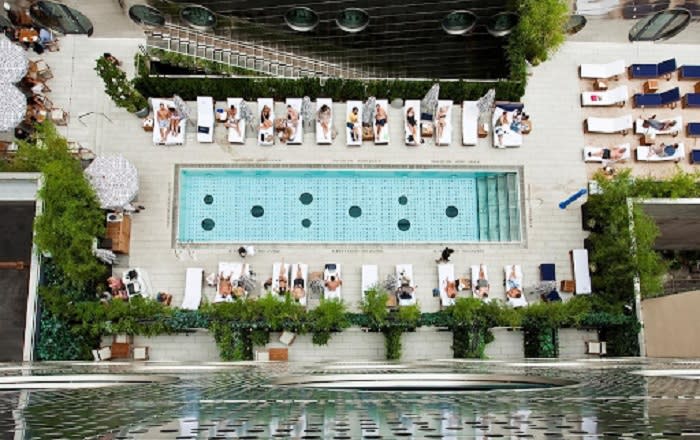 Credit: Booking.com
Dream Downtown
Dream Downtown's location is unbeatable. When you stay here,, you'll have access to anything you want to eat, see, do, or buy. Maybe that's why they call it a dream. If your beach vacation has been canceled once or twice in the past year, Dream Downtown will give you a taste of what you've been missing. As a guest here, you'll have access to their rooftop pool. Most NYC hotels don't allow guests to have access to their pools, but Dream Downtown encourages you to check out their roof deck oasis. Their 5,000 square foot space is more than just a pool. Here you'll be reminded of the ocean with their white sand beach. If you're looking to treat yourself to luxury, you can rent a private cabana with a flat-screen TV. With sunshine, sand, a pool, and a TV, what more could you need? Dream Downtown is the closest way to fulfill your beach needs without leaving the city.
Yotel New York
Yotel New York will transport you to a new age with its futuristic style within the Hell's Kitchen area of NYC. It's a quirky and unique find, especially for the tech-savvy. The futuristic style isn't just for show, but the hotel is equipped with the newest technology and ample working spaces if you decide to extend your staycation and work remotely for a few days.

If you're a foodie, Yotel might just be the spot for your dream staycation. Their brunch experience is one you've never experienced before. Aside from delicious food and bottomless brunch options, this brunch is guaranteed to be an unforgettable experience. At brunch, you'll be entertained by DJs, costumed dancers, and communal tables - so prepare yourself and don't mosey in expecting mediocre eggs and decor.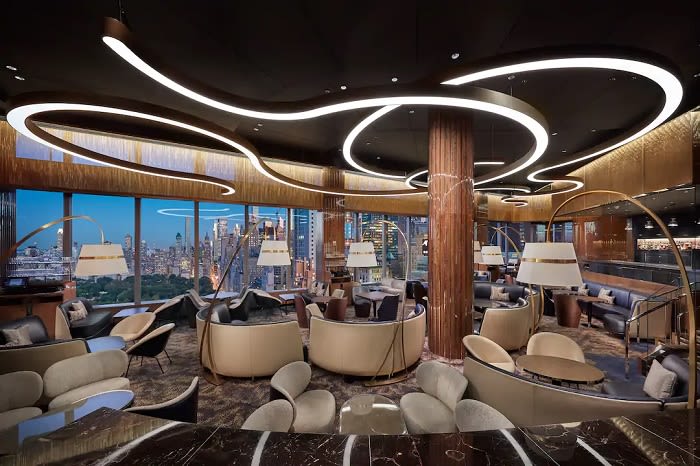 Credit: Mandarin Oriental
Mandarin Oriental New York
If you're feeling worn down from the continuous workdays that flood into your evenings, you need to retreat to the Mandarin Oriental. This hotel is known for its service, scene, and spa. Notably, the hotel's luxury spa provides instant relaxation. Their award-winning spa fills two floors of the hotel and is equipped with highly trained therapists. The views contribute to the scenic feelings, as you can gain a panoramic view of Central Park without the noise or stress the bustling city often carries. The Mandarin Oriental's spa is a luxurious retreat amid the never-sleeping city.
Crosby Street Hotel
When you step into the Crosby Street Hotel, you're likely to get SoHo vibes. If you're sick of looking at your studio apartment (the one you've been staring at the past year), Crosby Street will be a breath of fresh air. The rooms are refreshing with splashes of colors and fun patterns. The hotel's spaces are filled with modern art, sculptures, and photographs bringing you a taste of new cultures. As a guest, you'll have access to the Drawing Room. Here you can lounge on the plush couches and chairs (most likely in a bright color) with delicious cocktails. The style and detail within Crosby Street Hotel will give you enough to look at all weekend long, but if you're looking to explore something else, check out the Crosby Street Hotel film club. This luxury cinema is open to hotel guests and the public. This viewing experience is luxurious from start to finish with a three-course dinner or a cocktail and bar place, followed by the movie of the week at 8 p.m. Crosby Street Hotel is the perfect staycation hotel if you're looking for a mix of energy and calmness.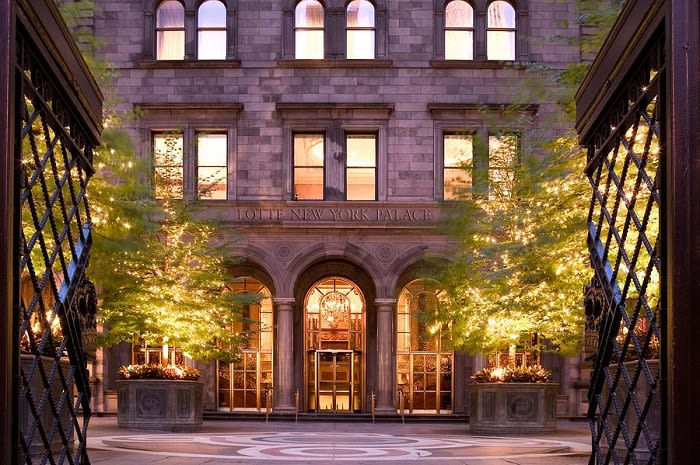 Credit: TripAdvisor
Lotte New York Palace
The Lotte New York Palace is a Midtown landmark. This hotel has long been recognized as one of the city's most iconic and recognizable hotels. Located in the heart of the city, Lotte provides an incredible experience inside and outside the hotel. When you plan your staycation at the Lotte New York Palace, you'll have access to so much, such as:
◾ Museums
◾ Shops
◾ Boutiques
◾ Green spaces
◾ Local dining
◾ Famous attractions
When you're finished exploring all that the city has to offer, you can retreat to your spacious and new luxury suites - the perfect place to unwind and regroup. If your home is a little out of the city and you're looking to explore central NYC further, Lotte New York Palace might be the perfect staycation hotel for you.


If the taste of luxury on your staycation leaves you wanting more, the Les Meyers real estate group can help with that! As a top-ranked New York team, the team of professionals specializes in luxury markets and a creative approach to deal-making. Through over 20 years of experience, The Les Meyers team continues to bring keen marketing insight and the utmost professionalism to each transaction. Whether you're ready to browse Midtown homes for sale or want to discuss Greenwich Village property, the Les Meyers team can evaluate your real estate needs and serve as a trusted advisor throughout your entire journey to luxury every day.