New York City is full of culture and art from around the world. From
Museum Mile
to the many museums scattered throughout the boroughs, the city provides an endless buffet for both casual art viewers and connoisseurs.
American Museum of Natural Histor
Considered one of the world's leading scientific and cultural institutions, the
American Museum of Natural History
is an NYC treasure. Since its opening in 1869, the museum's mission has been to discover, interpret, and publicize essential information about human cultures, the natural world, and the universe through a broad collection of exhibitions, scientific research, and educational programming.
This cultural haven is revered for its exhibitions and scientific collections, serving as a field guide to various cultures and the sublime world they live in. As you make your way through this miraculous space, you'll see everything from dinosaurs to astronomical phenomena and everything in between. This magical space offers a goldmine of information awaiting your exploration.
American Folk Art Museums
What sets the
American Folk Art Museum
apart from other museums is its commitment to spotlighting self-taught artists through exhibitions, publications, and educational programs. The museum's collection features over 8,000 artworks spanning four centuries and nearly every continent, boasting everything from compelling portraits and intricate quilts to influential works by living artists in various mediums.
American folk art was first defined at the turn of the 20th century by professional artists, critics, collectors, dealers, and curators searching for authentic American artwork. American folk artists are vital to molding American visual culture, inspiring generations of artists, and creating artistic traditions. From painting and textiles to photos and three-dimensional works, you simply must visit to grasp the magnitude of this niche in the art world.
El Museo del Barrio
Discover the rich history of various Latin American cultures with a trip to NY's premier Latino cultural institution,
El Museo del Barrio
. This phenomenal museum features an array of exhibitions and collections complemented by literature, film, visual and performing arts series, cultural celebrations, and educational programs.
The permanent collection comprises over 8,000 objects with Puerto Rican artists of the founding community at its heart. The ever-expanding assortment of work has grown to include art from Caribbean, Latino, and Latin American cultures. View contemporary and modern paintings, sculpture, photography, and mixed-media pieces in the permanent collection. These works are generally postwar expressions by Puerto Rican artists, but the collection also includes art by selected Mexican, Central, and South American artists active in the thriving New York art scene.


Another crucial component of the museum's volume of work includes highlighting overlooked and under-represented work in Latin American communities, showcasing Dominican artists, social and political artworks depicting everyday life in El Barrio (East Harlem) or Puerto Rico, and more. Learn about voices left unheard, their stories, and their vibrant background at El Museo del Barrio.
Brooklyn Museum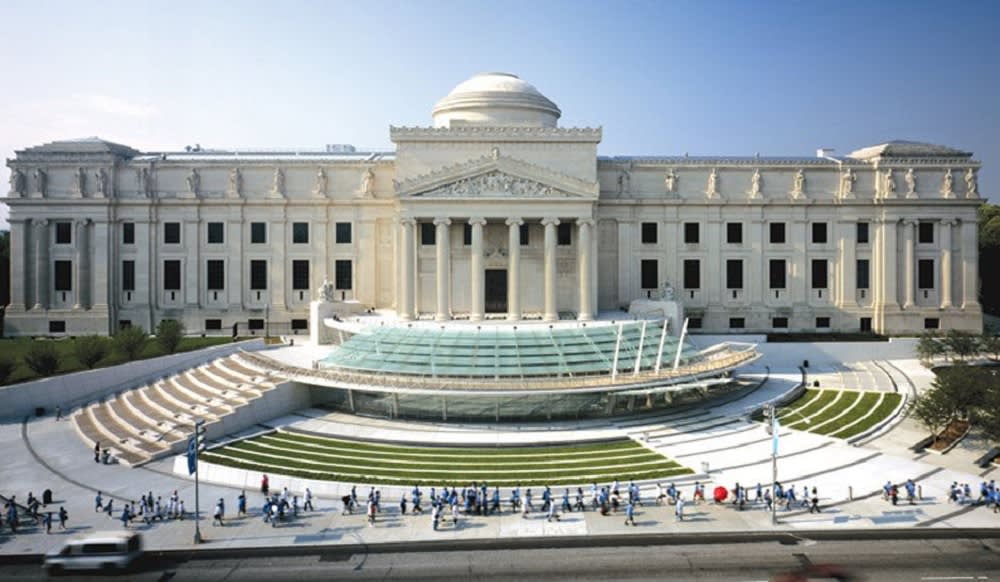 Image courtesy of ArtRabbit
The third-largest museum in all five NYC boroughs, the
Brooklyn Museum
, follows the encyclopedic guide of the Metropolitan Museum. It contains a collection situated in an 1897 Beaux-Art building that features period rooms, Ancient Egyptian and African art, sculptures, modern and contemporary paintings, and much more.
The expansive arrangement of art in the Brooklyn Museum contains pieces by some of the most revered painters in the world. In addition to a large holding of Egyptian art and the famous feminist piece, The Dinner Party, by Judy Chicago, you'll also find art by Impressionist masters, like Cézanne, Monet, and Degas.


The museum currently boasts some impressive exhibitions suitable for every art lover. Running through February 20th, Christian Dior: Designer of Dreams is a premiere look at the groundbreaking history and legacy of the House of Dior, bringing to life Dior's many sources of inspiration for his world-renowned fashion designs.


For a different and more intimate look into a Pop artist's world, check out the Andy Warhol: Revelation exhibition. Warhol's work ranges from iconic celebrity portraits to appropriated Renaissance masterpieces. These pieces play with styles and symbolism from Catholic art history and reframe them in the context of Pop Art and culture. These are just a couple of the captivating exhibitions you can savor at the Brooklyn Museum.
Guggenheim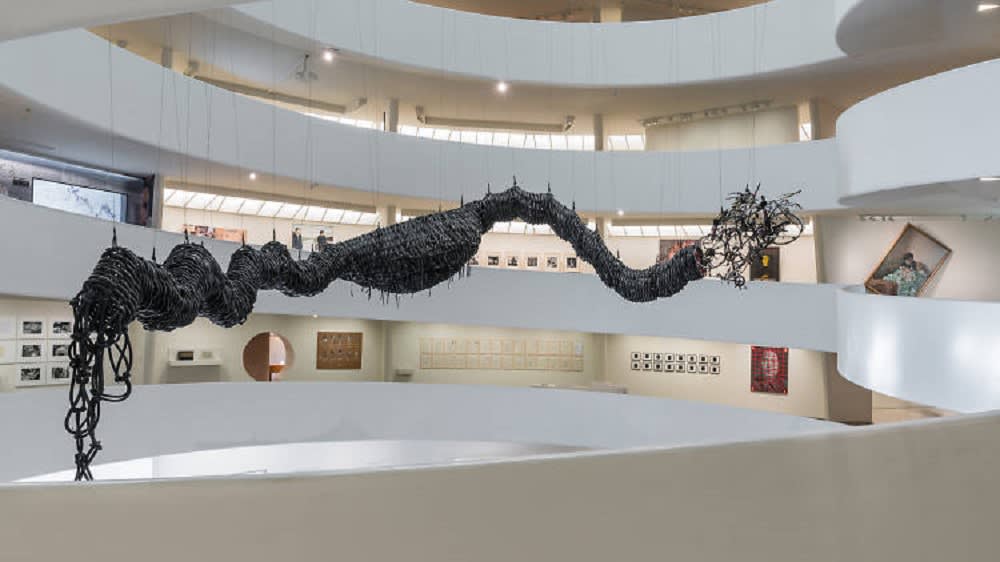 Image courtesy of David Heald, © Solomon R. Guggenheim Foundation, 2017
While the
Guggenheim
possesses an impressive collection of modern art, it is impossible to discuss this museum without paying homage to famous architect Frank Lloyd Wright's brilliant and controversial design. Opening in 1959 on Fifth Avenue across from Central Park, just months after Wright's passing, this concrete, inverted ziggurat (a Babylonian step pyramid) ignored all of the expectations and tradition of clean square galleries exemplified by neighboring Upper East Side museums, like the nearby Metropolitan Museum of Art.
Thinking outside the box, Wright combined geometric shapes and nature to create a gallery space that presents art along a winding spiral, much like a nautilus shell, with minimal separations between artists, concepts, and periods. As Wright envisioned, the space is best experienced by taking the elevator to the top and following the slope downward. The art is revealed at different angles as you make your way down and across the open circular passage. It is quite a revelation.


Wright's unique and bold approach to how art is displayed and viewed has inspired remarkable exhibits by highly-conceptual contemporary artists, such as a series of films by Matthew Barney and hundred of Maurizio Cattelan's sculptures hanging from the ceiling. Make some time to break away from the captivating main exhibit of the season to visit the small rooms off the rotunda to see the permanent collections, including works by Picasso, Cézanne, Manet, and the largest selection of Kandinsky paintings on permanent display in the nation.
The Jewish Museum
Head to
The Jewish Museum
to view nearly 30,000 works of art, ceremonial objects, and media representing 4,000 years of Jewish culture and art from around the globe. The Jewish Museum aims to spread an appreciation and understanding and works to preserve the artistic and cultural endeavors of Jewish people through its unmatched collections and distinguished exhibitions.
Programming includes compelling presentations of an interdisciplinary nature, often intertwining art and artifacts interpreted through the lens of social history. One example of interdisciplinary work is the Scenes from the Collection exhibition, presenting a unique mix of Judaica and centuries of artwork. Works in the collection are distinctive creative expressions and bearers of the stories of those who made, owned, used, preserved, and sometimes transformed them. Calling attention to the multiple facets of Jewish culture and art, this exhibition resonates with people of many faiths and backgrounds on a visceral level.


The museum is also known for monograph shows of well-known artists such as Camille Pissarro, Alex Katz, Maira Kalman, and more, along with contemporary and modern artist representation in group exhibitions. There is an abundance of daytime and evening programs suitable for individuals, groups, families, and schools accessible year-round. When seeking to learn about Jewish culture – from biblical times to the present – spend some time at The Jewish Museum.
The Metropolitan Museum of Art
Opened in 1880 and situated on Central Park,
The Metropolitan Museum of Art
is an iconic New York institution containing 5,000 years of art, from prehistory to the latest contemporary work, all in one museum. The Met is the largest art museum in the U.S., boasting a permanent collection comprising over two million works divided into 17 curatorial departments. Whether you're a young, growing mind or an aging soul, you'll indeed find an exhibition or two that speaks to you.
If the sheer volume of work intimidates you, take an exhibition tour through newly installed European Paintings galleries. You can also check out the ongoing exhibition The African Origin of Civilization to view 21 pairings of works from different African cultures and eras — a rare opportunity to appreciate the extraordinary creativity of the continent across five millennia, revealing unexpected parallels and contrasts.


Home to works hailing from various cultures, both native and worldwide, the Met is a museum you can visit over and over and still discover something new with every trip.
The National Jazz Museum in Harlem
Since its birth in New Orlean in the early 20th century, jazz has and continues to have an enormous impact on American culture. The
National Jazz Museum in Harlem
goes to great lengths to preserve, endorse, and present jazz history through inspiring appreciation, education, and the celebration of jazz on local, national, and international levels.
Four Core Programs are the foundation of NJMH: these programs include Education, Jazz &... (Community Engagement & Performance), Exhibits & Collections, and Partnerships & Collaborations. Inclusivity is woven into the fabric of NJMH, showcasing jazz, jazz-adjacent voices, and perspectives that diverse audiences can resonate with. The museum offers plenty of free online and in-person programming to educate, entertain and connect audiences, jazz artists, educators, and scholars.


Artists of various backgrounds find a home for their artwork at NJMH, offering visitors an array of memorable and captivating jazz experiences.
Live close to these NYC art museums
Are you an art enthusiast looking to move to the Big Apple? Contact the
Meyers & Venn Team
to inquire about Greenwich Village brownstones and Midtown lofts. Call today, as the Big Apple is waiting for you to take a bite!