From friendly meet-ups to official first dates to a night on the town celebrating years of togetherness, date night is that rare occasion where you and your significant other get to take on the town, have fun, and enjoy the company of someone you care about. Aside from those first-timers building up the courage to ask, the most challenging part about date night is deciding where to go and what to do.

As the world's preeminent dating destination, New York City does the indecisive among us no favors. Even those individuals with a take-charge attitude find it daunting to narrow down the options on offer for a night (or day) out in the Big Apple.

To help spur you on to once again enjoy this magnificent city of ours, we've compiled a list of date night destinations in NYC. Some represent classic New York stand-bys worth revisiting (or, if you've yet to, experiencing at least once in your life), while others will present a brand new adventure.

Rest assured, all will provide you and your date a fabulously good time in an equally spectacular city.
Fall Into a Tourist Trap
Various locations, Manhattan

It's easy to poke fun at out-of-towners flocking to the usual haunts of NYC iconography - The Empire State Building, Rockefeller Center, or the Statue of Liberty, among so many others. But these seminal monuments represent New York's everlasting appeal and are popular because they're amazing attractions to visit. And it's even more fun if done with a fellow sightseer in tow.

The great thing about going on a tourist-centric date is that whatever your moods, there's an itinerary for you. For example, an Art Deco date starts in the lobby of the Chrysler Building (there is no observation deck), makes a stop at Bryant Park and the Bryant Park Hotel, and ends up at the Empire State Building's observation deck in the afternoon or evening.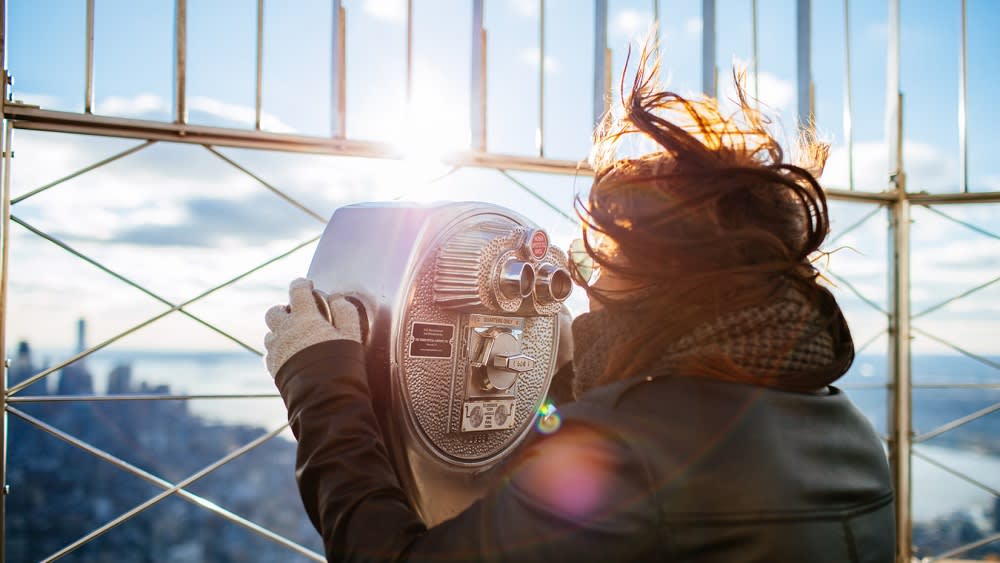 Credit: Empire State Building
You can tour the famous Rockefeller Center, then dine and drink and ice skate without ever leaving the premises. For more established couples who appreciate using date day to explore the city's history, including its most sacred spaces, take a combined tour of the Statue of Liberty, Ellis Island, Ground Zero, and the 9/11 Memorial Museum.
Have a Ball in One of the Coolest Neighborhoods in the World
Chelsea, Manhattan

New York isn't New York without its collection of eclectic neighborhoods, and a favorite among residents and visitors alike is Chelsea. Recently named one of the coolest neighborhoods in the world by Time Out, Chelsea is that rare locale where you could have date night every day of the month and never do the same thing twice.

The area features a roster of restaurants representing a bevy of standout global flavors, including American cuisine, bakeries and cafes, and Chinese, Cuban, French, Italian, Japanese, and Latin American flavors. There are bars aplenty, from the hidden speakeasy Bathtub Gin to the wine bar City Winery to the always popular The Tippler.

As far as what to do before or after your dinner and drinks, here's a shortlist:

Of course, we must not forget that Chelsea is also home to Madison Square Garden, the ultimate venue for sports and concerts.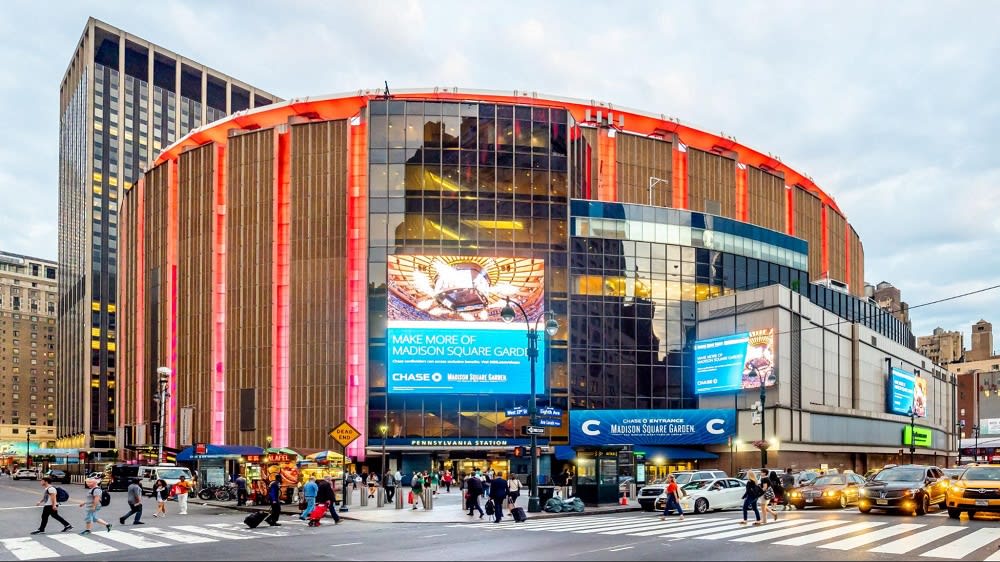 Romantic Dining
Various locations, Brooklyn, Manhattan

Date night, of course, often means a romantic night out. For couples young and old, it's a night to dress up, splurge, and fall in love all over again - with each other and New York's exquisite high-end dining scene.

Honestly, there's no shortage of fine, elegant dining in NYC, with numerous eateries capable of making date night something extraordinary. These six Manhattan eateries, plus another in Brooklyn, are standouts in their respective cuisine and surefire hits for those who desire a romantic evening of fine dining:

If your particular party is looking for romantic eats across the East River in Brooklyn, The River Cafe is an absolute must. Tucked in under the Brooklyn Bridge, you're rewarded with breathtaking views of the Manhattan skyline.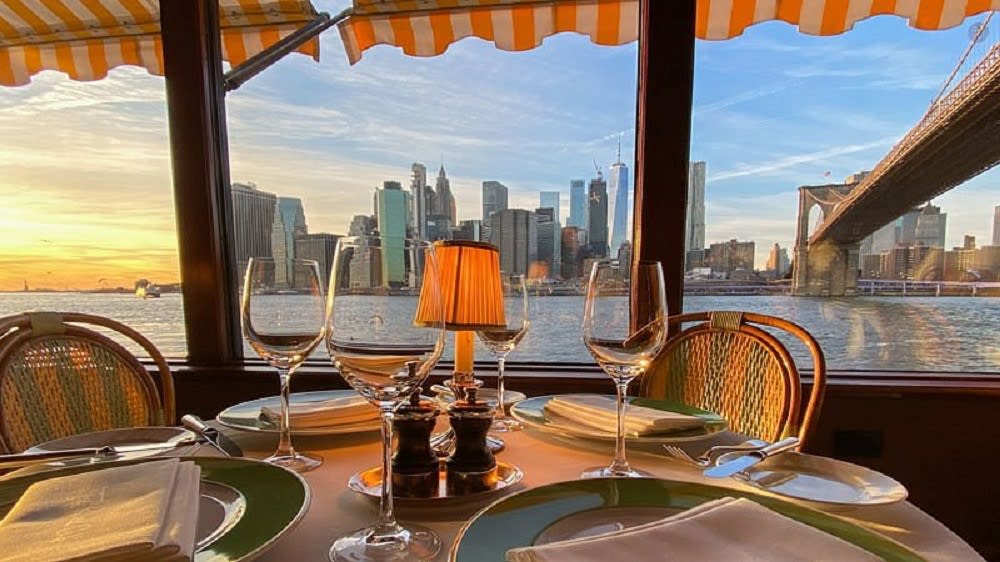 See Hamilton on Broadway
226 W. 46th Street, Richard Rodgers Theater, Midtown

After going dark due to the Covid pandemic for a painfully long 552 days, the blockbuster musical Hamilton and many other long-running Broadway productions such as The Lion King and Wicked are again dazzling audiences. If you or your date haven't seen the Pulitzer and Tony-award-winning show, or you've been longing to witness it again, there's no better time than now, with fresh energy onstage and in the crowd.

Tickets for Hamilton are on sale for nightly shows Tuesday through Saturday and matinees Wednesday, Saturday, and Sunday. The show is dark on Mondays.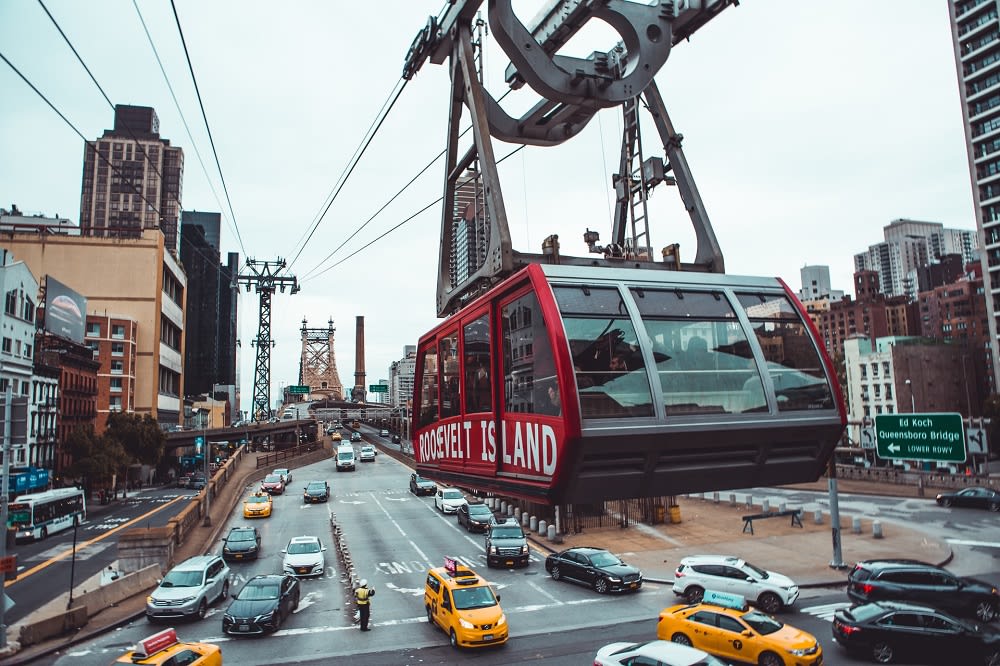 Soar, Then Dine and Drink, Above it All
The Graduate Hotel, Roosevelt Island

If you're in search of an outing that strings together some genuinely unique experiences, start your afternoon or evening by hopping aboard the Roosevelt Island Tram, traversing the East River to Roosevelt Island, then make the short walk to the whimsical Graduate Hotel.

Once here, you'll want to dine at the sustainable New American restaurant Anything at All. Cap your night off in genuinely spectacular fashion by visiting the Panorama Room, and sipping cocktails on the 18th-floor rooftop lounge while taking in views of the breathtaking Manhattan skyline.
Take in a Movie, Old-School Style
Skyline Drive-In, Brooklyn

Who could forget that classic date night staple of heading to a movie theater to take in the latest rom-com or big-budget blockbuster? However, if the thought of sitting in a dark, cramped theater still strikes you or your date as unsettling, an old-fashioned drive-in movie might be more to your liking.

The Skyline Drive-In serves up classic and cult films seven nights a week in the Greenpoint neighborhood of Brooklyn along the East River. Pull up in your flashiest ride and enjoy sunset views of the Manhattan skyline before showtime. No car? No problem. The Skyline accommodates walk-ups or those on bikes with special seating areas so everyone can enjoy the show.
Tropical Vibes Without Leaving Home
Various locations, Brooklyn, Manhattan

If a sea of northeastern concrete and steel has you and your special someone longing for a more tropical locale, you could build your own tiki bar in the middle of Central Park or let someone else do the heavy lifting and partake in one of New York's trendy tropical-themed restaurants or bars. An increasingly popular subset of New York's happy hour scene, these establishments go out of their way to make patrons feel at home in the tropics - Atlantic, Pacific, or otherwise. A few of the top options include:

Any one of the above delivers the perfect jumping-off point for an evening out or an ideal spot for a couple to chill and lounge as if you're on the beach sipping your favorite fruity cocktail. As the menu at Tiki Chick suggests - all for rum and rum for all.
Uncover Love on Long Island
Various locations, Long Island

Finally, one of the benefits of living in the heart of New York City is that you're never too far from the romantic splendor of Long Island, home to The Hamptons. Long a vacation getaway for the New York elite, the area doubles as a host for couples searching for romantic day trips outside of the city.

From dining in one of The Hampton's refined restaurants to strolling along the area's many beaches to a visit to the stark-but-beautiful grounds of Montauk Point Lighthouse, The Hamptons are filled with numerous romantic destinations perfect for a couple in love from NYC.
Ready to explore the best of New York City real estate? Contact the Meyers & Venn Team today to start your home buying or selling journey. From Midtown real estate to homes for sale on the Upper East or Upper West Side, allow the Meyers & Venn Team's years of experience and expertise to be your guide to New York's luxury real estate market.